More Profitable Real Estate Flip, Rental, Wholesale, & BRRRR Deals with Premium Property Data, Accurate ARV, and Rehab Construction Cost Estimates
Professional real estate investment & house flipping software for expert 
deal due diligence

and

marketing
Over 30,000 investors depend on our software as part of their real estate investment workflow
Fix and Flip Investors
Our house flipping software will allow you to accurately estimate ARV and construction costs so that you can show your lenders the data they need to get the project funding approved.
Real Estate Wholesalers
Make buyers hungry for your next deal with beautiful marketing reports and the most comprehensive deal numbers.  Easily share a link to market your property or send a professional PDF to your buyers list.
Rental Investors
Understand your potential financial KPIs including Cash on Cash, IRR, Cap Rates, Operational Expenses and Reserve Holdbacks for Capital Expenditures. Single-Family, Multi-Family, BRRRR.
Say goodbye to guesswork
REI/kit gives you the tools and data to make expert real estate investment decisions
Premium Property Data
Unlike our competitors who only rely on free and limited information sources like Zillow to give you an incomplete picture of the deal, our property data includes far more data points from multiple paid and free sources, to give you the critical information that you need to make an informed buying decision including (where available): Zoning, Property Tax Amounts, Building Quality, and Features commonly used in an appraisal.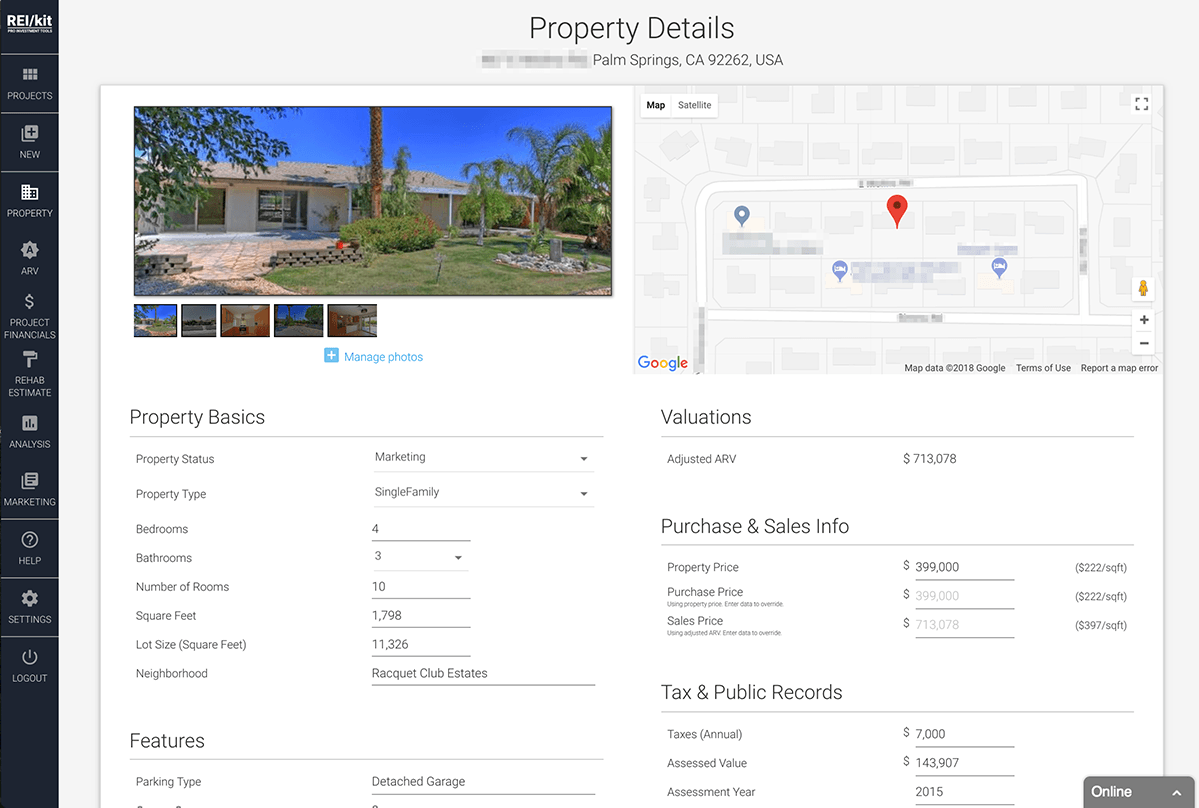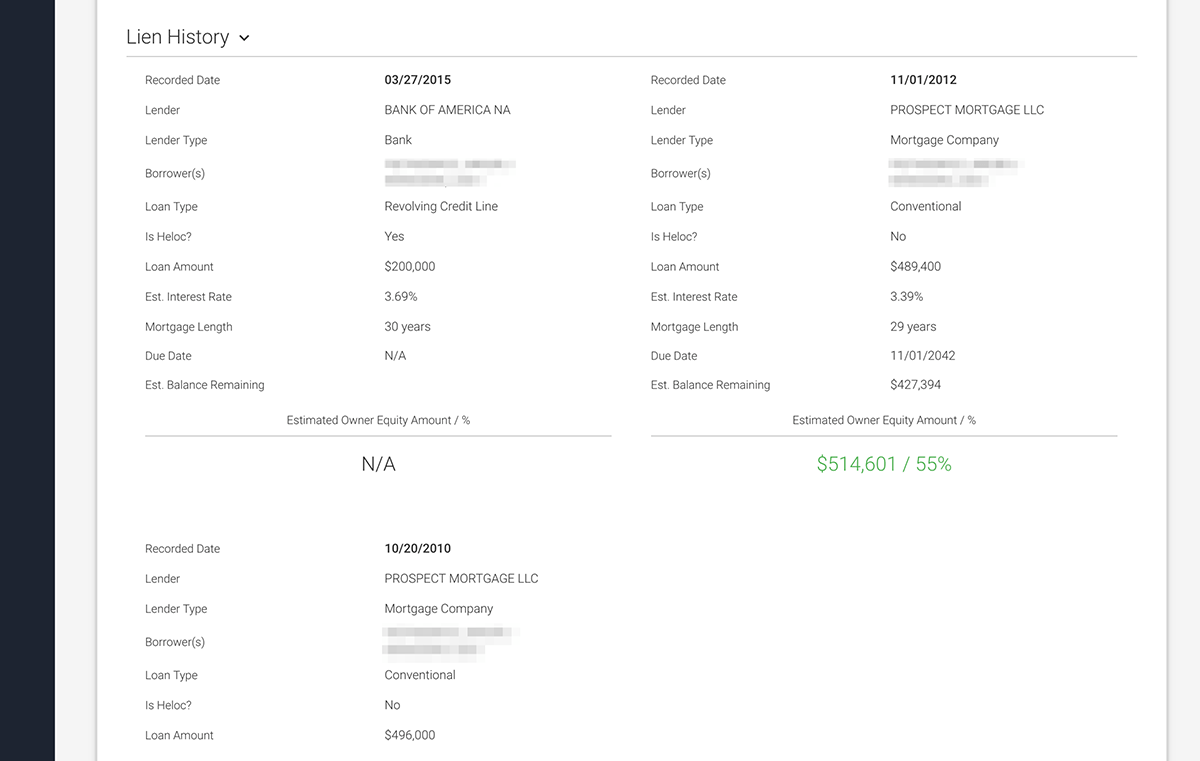 Loan History AKA Owner Motivation
Imagine knowing who all of the borrowers are as well as how much money was borrowed against the property. On top of this, we give you their estimated equity since origination, so that you can understand all of your possible exit strategies before you even visit the property.
Appraisal-Quality ARV
Search for comps and calculate a true After Repair Value (ARV) the way an appraiser would. The ONLY house flipping, rental, and wholesale real estate investment software that uses standard appraisal adjustment techniques, helping you save thousands by preventing you from overpaying for your deals.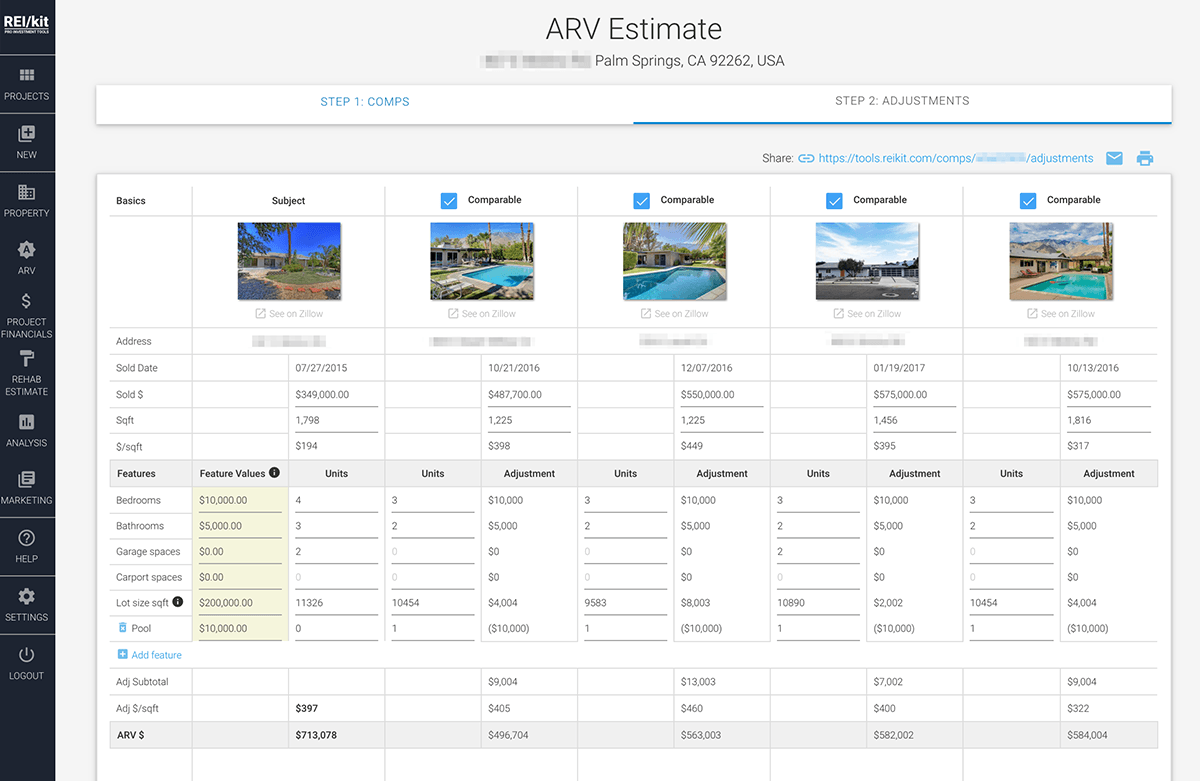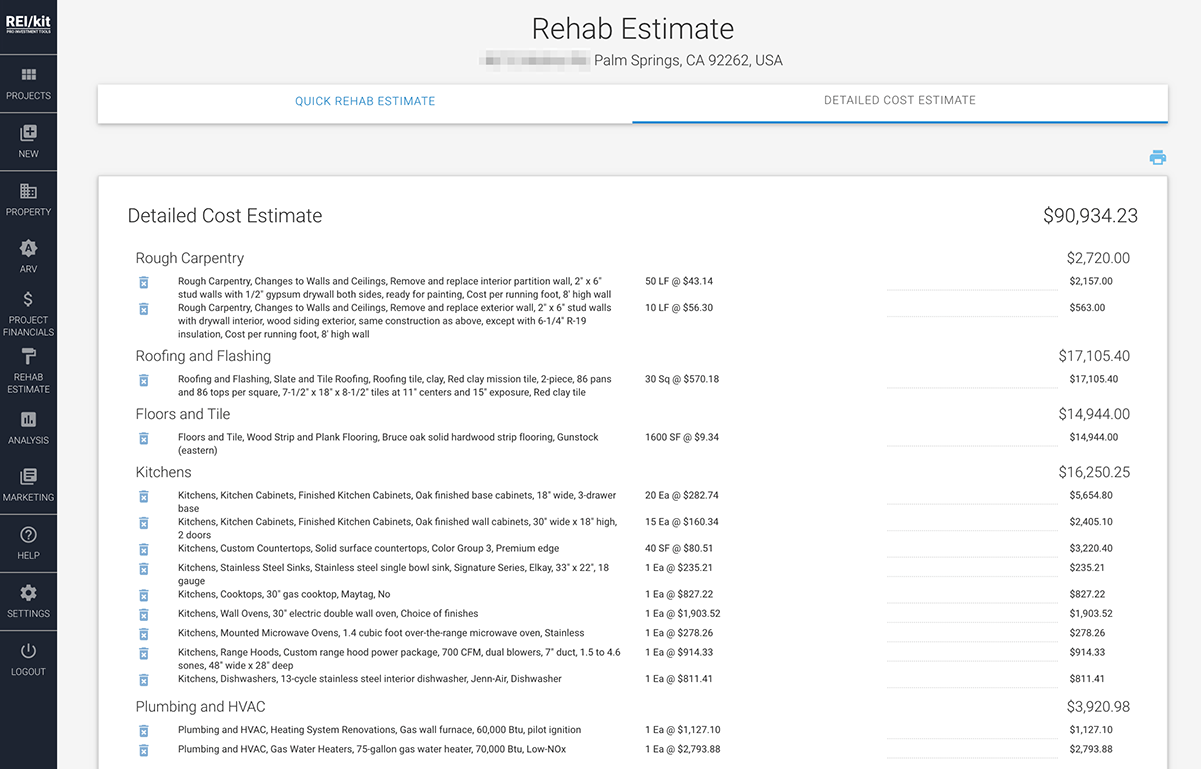 Accurate Rehab Cost Estimates
Create itemized rehab cost estimates without needing a contractor, and know the real cost of your rehab before you make your offer. The house flipping software lets you select from thousands of construction cost items that are regularly updated and adjusted to over 40,000 zip codes.  No more guesswork.  No more inaccurate $/sqft formulas.  No more out-of-date spreadsheets.
Account for Holding Costs
The most comprehensive list of holding costs for you to itemize so that you can be sure that you account for every penny of the project.  By not itemizing their holding costs, most investors underestimate their holding costs by thousands of dollars.  Understand your Operational and Capital Expenditures and when they are likely to impact your bottom line.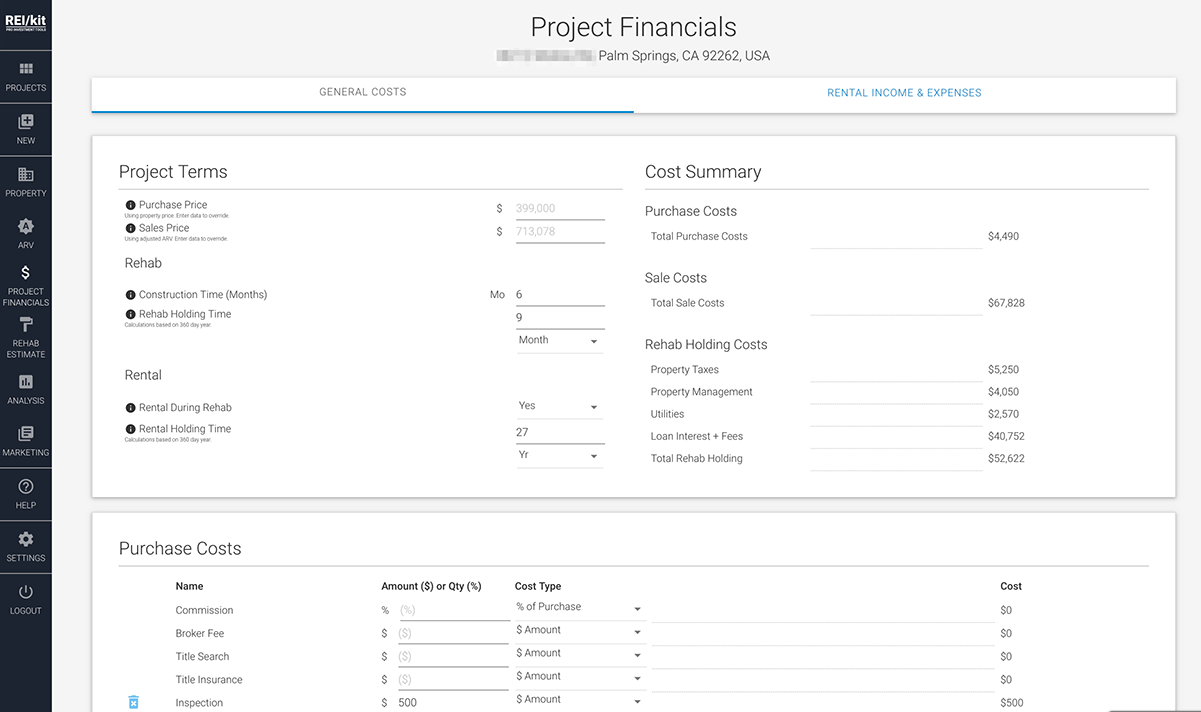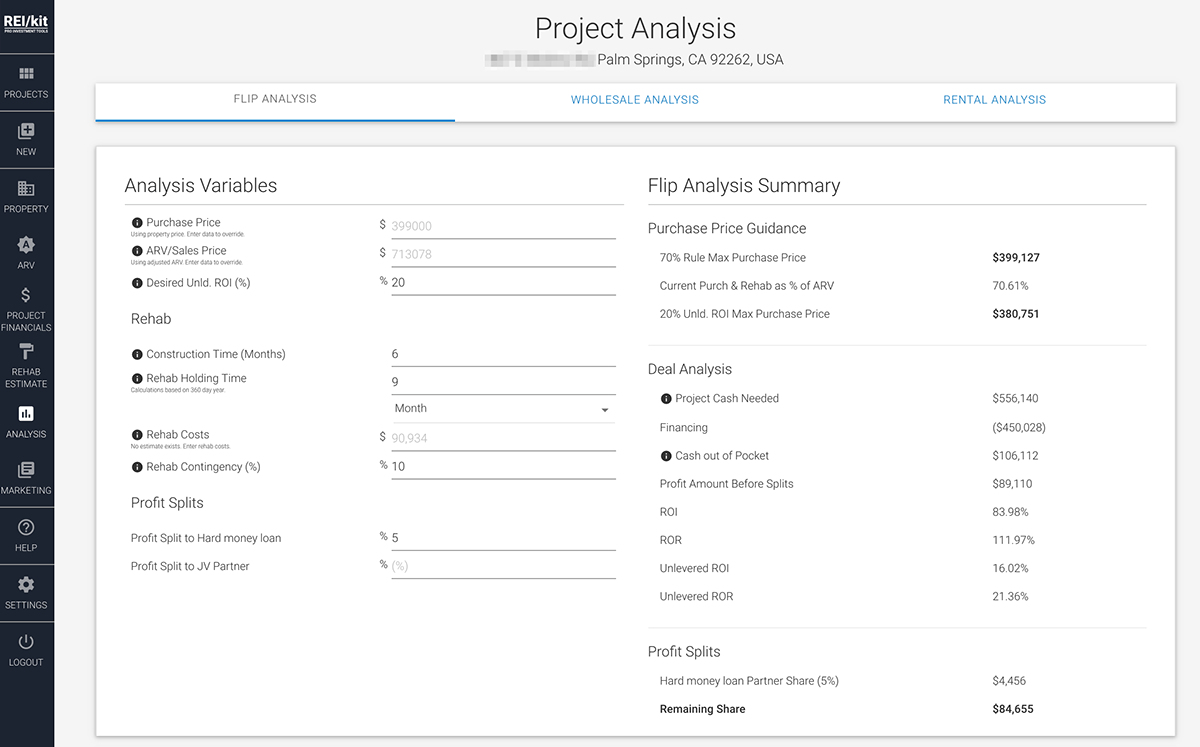 Multiple Exit Strategy Analysis & Offer Price Guidance
The fastest way to see if the deal pencils as a Fix and Flip, Wholesale, Buy-and-Hold Rental, BRRRR, or House Hack.  Fool-proof guidance on what to pay for the property to make the most profit based on your investment criteria.
Professional Marketing Reports
Get funded more quickly by sharing professional reports of your deal fundamentals with your hard money lenders. Market your property to other investors and get it under contract quicker.   Choose exactly what to share.  (Example flip report ).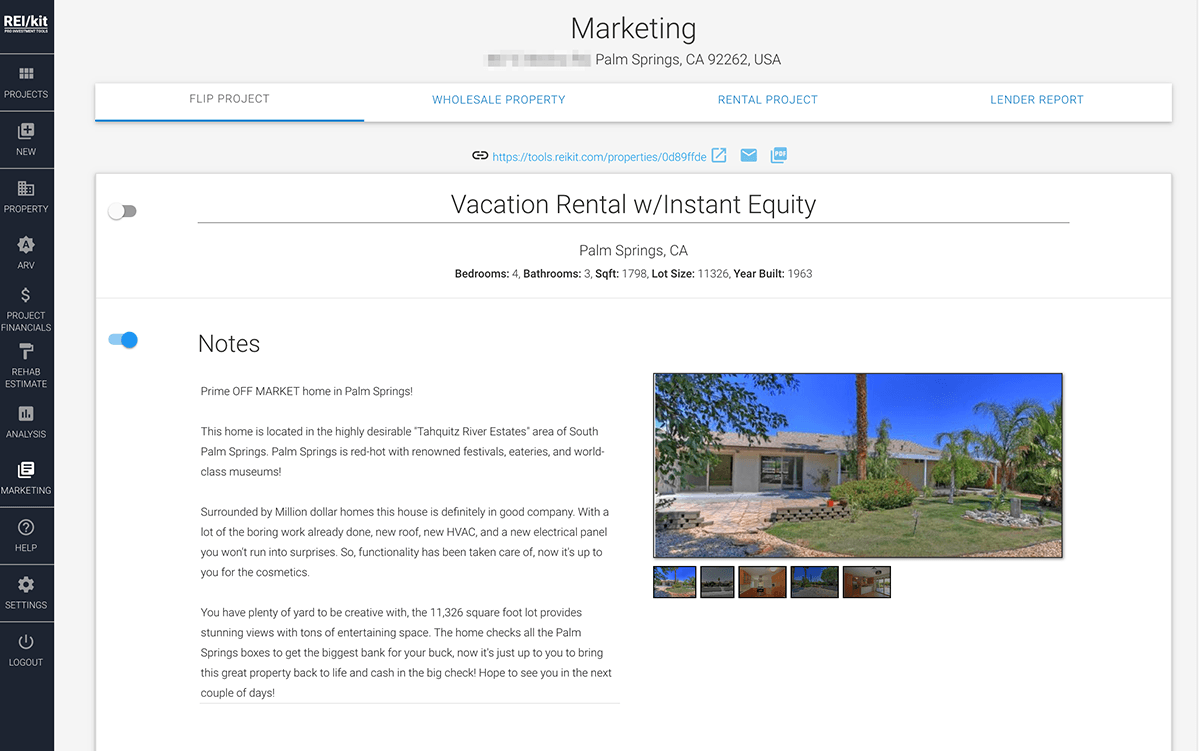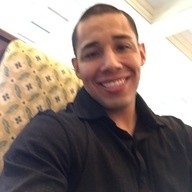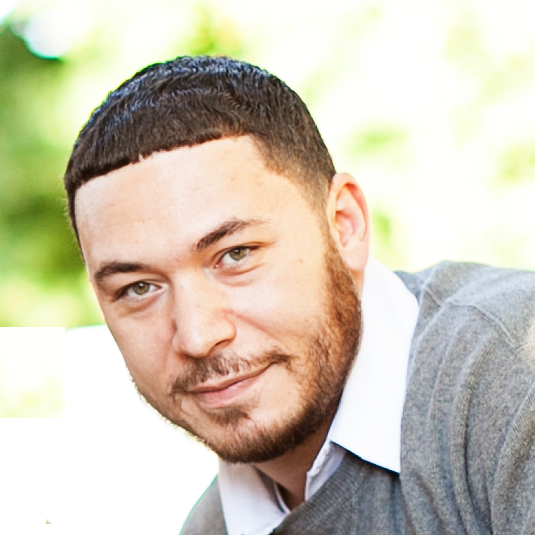 I have tried many tools out there, and have created many of my own, and REIkit has hands down the best way to perform due diligence on a house flip, rental property, or wholesale deal.
REIkit reports have changed the game in getting our wholesale offers accepted by homeowners, and our house flips funded quickly!
Carlos Altamirano, Syndicator at CFA Investments LLC
Nate Rold, CEO of Rold Realty Solutions