Professional House Flipping Software & Real Estate Wholesaling Software to Get You Into More & More Profitable Deals
with
Expert Comps & ARV, Seller Leads, Websites, CRM, & Email Marketing Automation
All of the software that you need in one integrated system for the highest quality deal analysis with Premium Comps and ARV, Nationwide Rehab Costs Estimator, and professional lead marketing with Real Estate Investor Websites, motivated seller leads, and automated lead followup with CRM, Inbound Phone Numbers, and Email Marketing Automation.
Over
150,000

deals strong!

REI/kit is house flipping software and real estate wholesaling software that is trusted by thousands of real estate investors as an integral part of scaling their real estate investment systems.

The software helps you get into more deals by automating your email marketing and follow up, and into more profitable deals through expert deal analysis.
Read why thousands of investors choose REI/kit house flipping software: How to choose the best house flipping software.
---
REI/kit is House Flipping Software & Real Estate Wholesaling Software for
Expert Deal
Analysis & Marketing
Appraisal-Quality Bullseye Comps & ARV
The ONLY house flipping software that uses appraisal techniques to help you pinpoint the most accurate ARV with accurate real estate comps data. (We don't use Zillow like the other guys)
Estimate Rehab Costs Like a Contractor
Rehab cost estimator including nationwide house rehab material and labor cost estimate data, so that you know the cost to rehab a house.
Premium Property Data
Perform extensive due diligence on your properties and leads, with our extended property data that includes, Taxes, Owners, and Estimated Equity.
Multiple Exit Strategies
Expert analysis for flipping a house, wholesaling houses, or using the BRRRR method for investing in rental properties.
Professional Deal Marketing Reports
Create professional reports to market your deals to private money lenders for funding, or to cash buyers for resale.
Integrated With Lead Website & Real Estate CRM
Your analysis is integrated into the Seller Lead CRM, and your deal reports can be shared with your buyers and lenders on your website.
REI/kit is House Flipping Software & Real Estate Wholesaling Software for
Lead Generation &
Follow Up
Highly Motivated Seller Lead Lists
Target 8 types of Highly Motivated seller leads including: Absentee Owned, Vacant Property, High Equity Owner, Low Equity Owner, Empty Nesters, Trustee Owned, Corporate Owned, and Seller Financed Property including phone and email addresses.
Lead Capture Websites
Build a conversion and seo-optimized, responsive real estate investor website in 2 button clicks to start capturing motivated seller leads today.
Market your website in Google search, as well as Facebook, and AdWords.
Phone Numbers for Inbound Lead Capture
Create forwarding numbers for each of your marketing campaigns, and automatically capture callers as leads into your CRM.
Forward calls to your phone, or send them to voicemail, and record and transcribe them for a complete record of all of your inbound lead communications.
Automated Seller Lead CRM
Keep track of your motivated seller leads as they move through your sales funnel, all the way to the closing table.
Automate task creation and assignment to your team members. A lead can automatically trigger a email drip campaign and sequence of tasks designed for you to generate an offer and make contact.
REI/kit is House Flipping Software & Real Estate Wholesaling Software for
Email
Marketing Automation
High Converting
Email Templates
A series of optimized email campaigns already written for you, designed for high deliverability and open rates.
Email Follow Up
on Auto Pilot
Spend less time chasing leads, and more time signing contracts. All you have to do is add your leads to the email sequence and let the drip campaigns work their magic.
Email Activity Notification
See that your lead opened and read your email or clicked on your contract that you sent them.
REI/kit House Flipping Software and Real Estate Wholesaling Software is a complete system to help get you into more deals and
more profitable

deals
How?
YOUR
LEAD FUNNEL

STARTS WITH...
MOTIVATED SELLER LEAD LISTS
Quickly build a list of the 8 most profitable lead types that are working today, or combine up to 85 different filters for ultra targeted motivated seller lead marketing and acquisition.
No need for skip tracing as REI/kit leads come with phone numbers and in many cases email addresses so that you can immediately put them in an automated email campaign.
MOTIVATED SELLER LEAD CAPTURE WEBSITES
Capture motivated seller leads using a secure, SEO optimized, high-converting, mobile friendly and responsive real estate investor website, which you can use to easily target all of your hyper-local markets.
As easy as 2 button clicks to get started, with already optimized content that is completely customizable to your marketing message.
No designers, no expensive set-up fees, no hosting necessary.
PHONE NUMBERS FOR INBOUND LEAD CAPTURE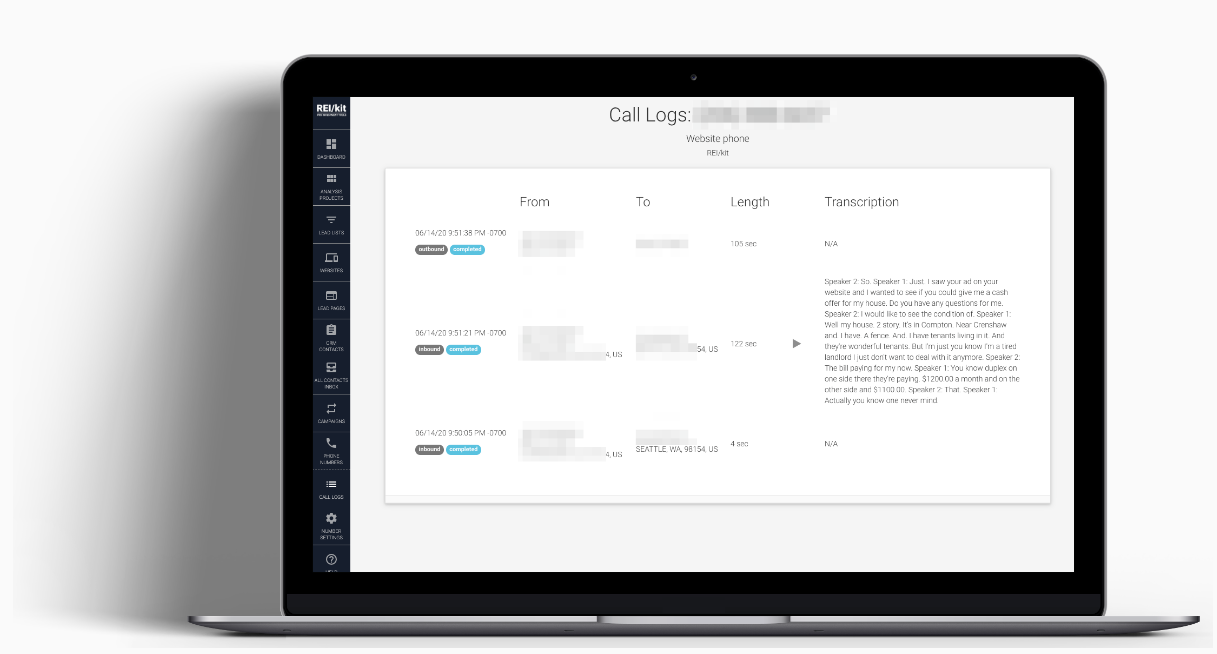 Create a separate inbound phone number for each of your marketing campaigns to understand which campaigns are working to generate the most leads.
Forward your inbound phone numbers to your business phone or send your callers to voicemail.
Record your calls and voicemails and automatically transcribe them to see a complete record of your lead communications.
Inbound calls automatically become leads in your CRM for follow up.
MOTIVATED SELLER LEAD CRM
Your leads automatically flow into the CRM from your website, or from your highly targeted and already skip traced REI/kit motivated seller lead lists.
You can even easily import them from your outside sources of lists such as from ListSource, and even from Podio.
The CRM is the one place for all your leads so that you can implement your follow up systems, and never again lose track of your lead communications, documents, tasks, and status as it moves through your sales funnel.
Email your leads from within the CRM and have a complete picture of your entire team's communication with the lead.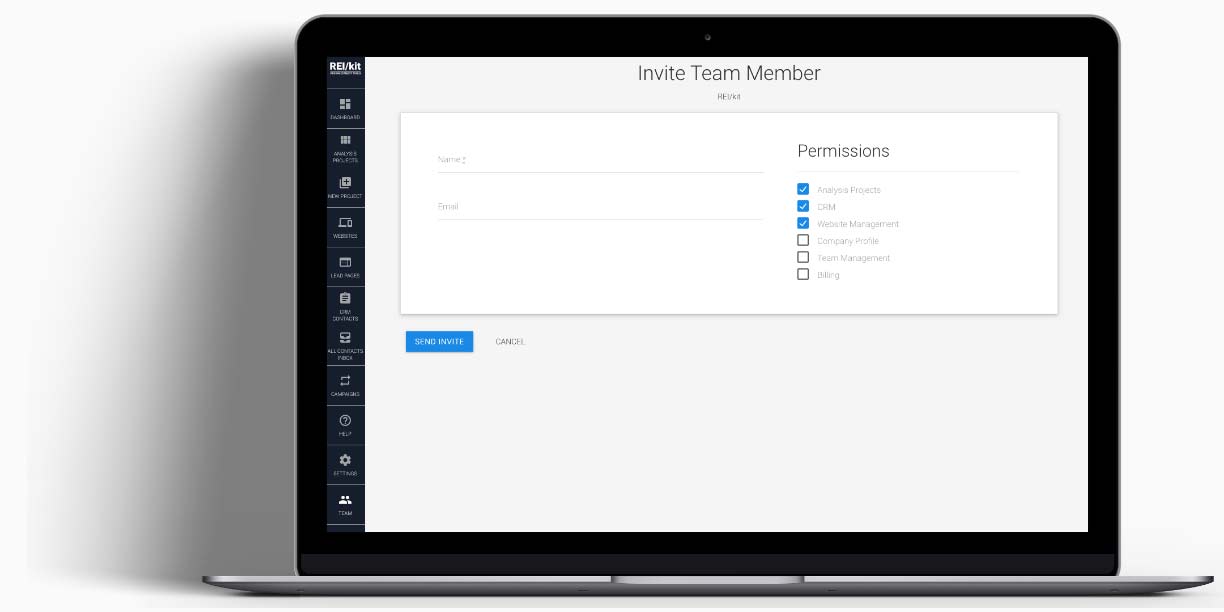 Collaborate with your real estate acquisitions team.
Invite your partners, realtors, real estate virtual assistants, cold callers, appointment setters, and marketing managers to work your leads from first contact on your website all the way through the deal due diligence, purchase, and re-marketing of the deal to your cash buyers.
THEN
AUTOMATE

YOUR FOLLOW UP WITH EMAIL MARKETING & TASK AUTOMATION Campaigns

Your email marketing strategy and lead follow up will fail if you don't automate it. With REI/kit you can trigger automated email and task sequences that move your lead through your sales funnel all the way to the closing table to make sure that none of your leads fall through the cracks.

Read more about the email marketing automation feature release >>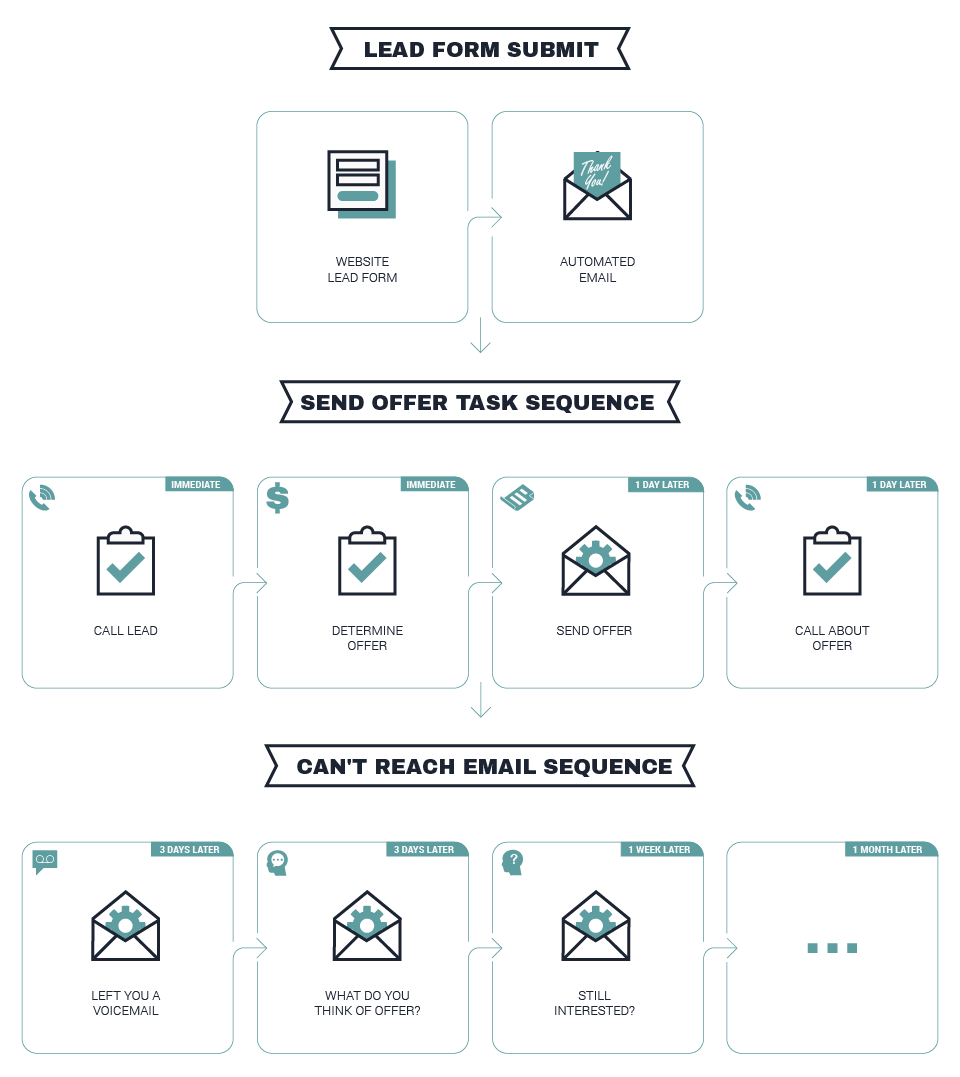 So that you can spend less time chasing leads and more time
signing contracts
The money is in the follow up. Most of your competition will give up after getting no response after only 2 or 3 touches. You will end up with more deals if you let the automated system follow up with your leads.
Then you Can Analyze Your Deals for
Maximum Profit

With...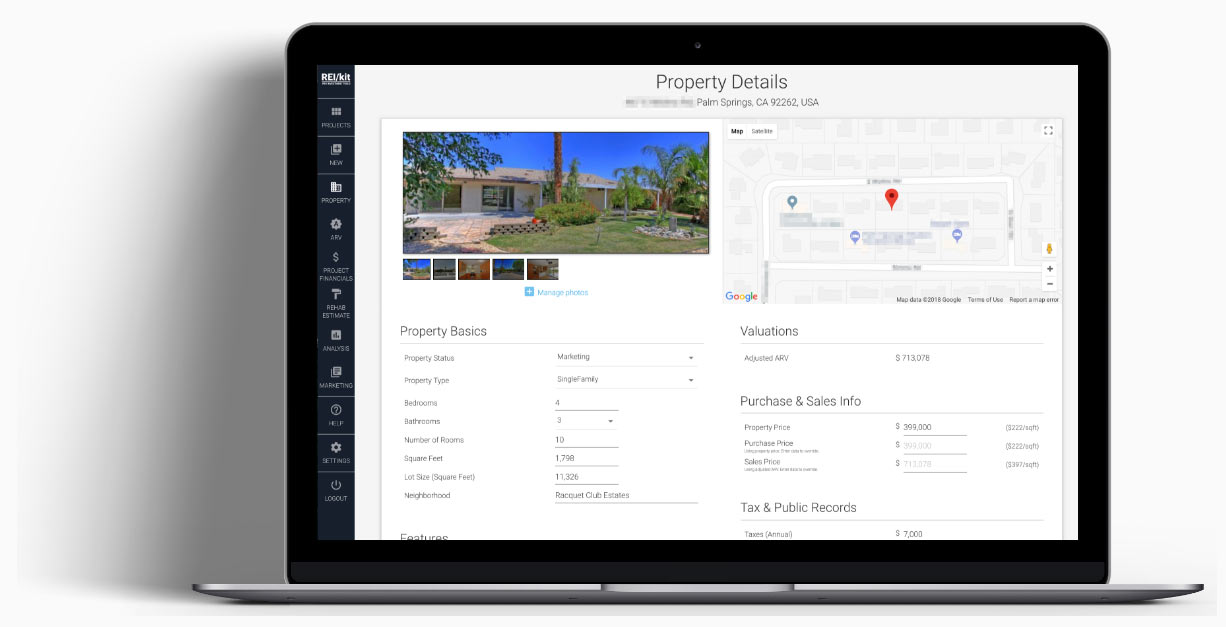 Unlike our competitors who only rely on free and limited information sources like Zillow to give you an incomplete picture of the deal, our property data includes far more data points from multiple paid and free sources, to give you the critical information that you need to make an informed buying decision including (where available): Zoning, Property Tax Amounts, Building Quality, and Features commonly used in an appraisal.
Loan History AKA Owner Motivation
Imagine knowing who all of the borrowers are as well as how much money was borrowed against the property. On top of this, we give you their estimated equity since origination, so that you can understand all of your possible exit strategies before you even visit the property.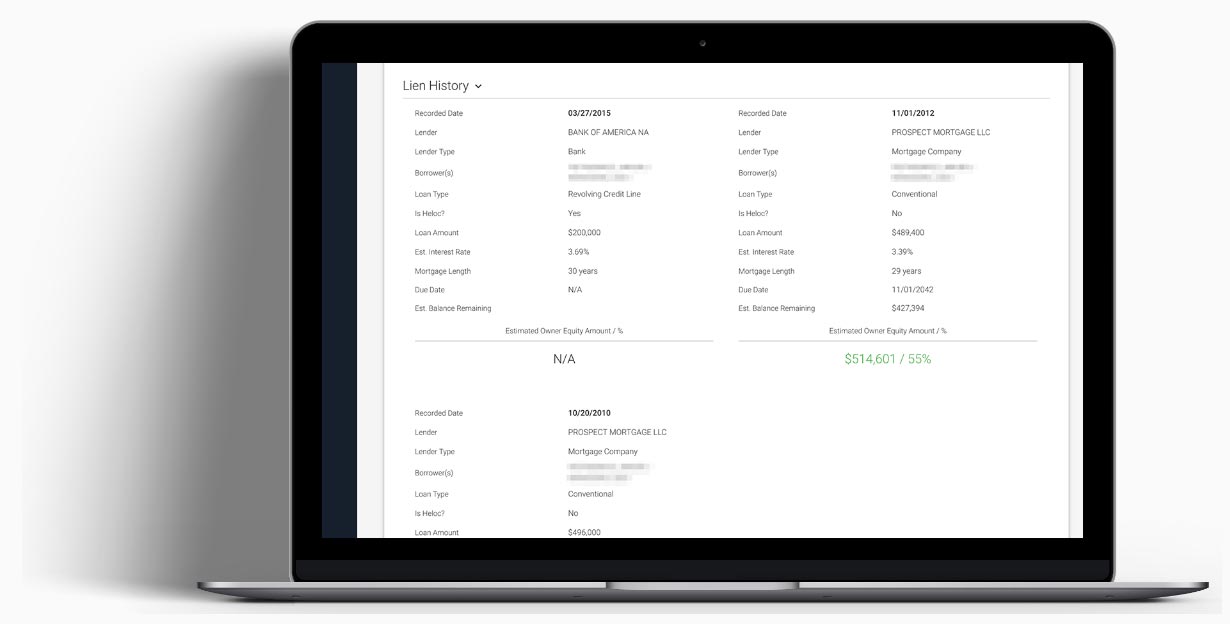 Advanced Comp Detail Showing Cash Buyer Activity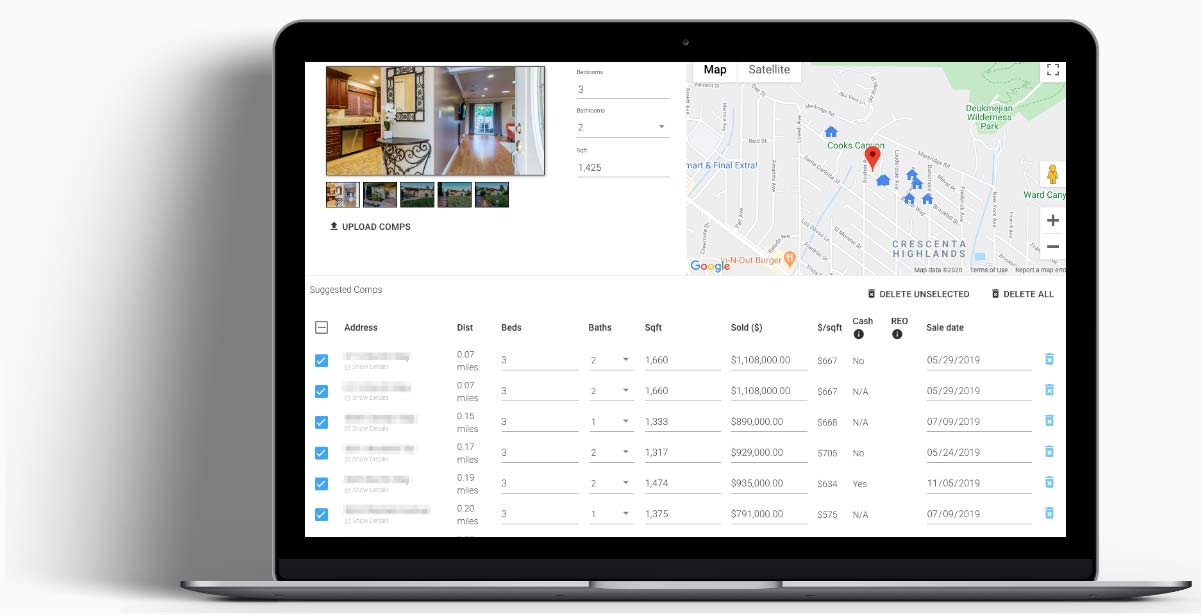 Our comps come with expert level detail including whether they are purchased with all cash by investors, whether the sale was part of a foreclosure process, whether the owner is an entity, and much more.
Want to know what cash buyers are paying around a particular property? We've got you covered.
Want to know who the cash buyers are around a particular property? We've got you covered there too.
Calculate a true After Repair Value (ARV) the way an appraiser would. REI/kit is the ONLY house flipping, real estate wholesaling, and rental real estate investment software that uses standard appraisal adjustment techniques, helping you save thousands by preventing you from overpaying for your deals.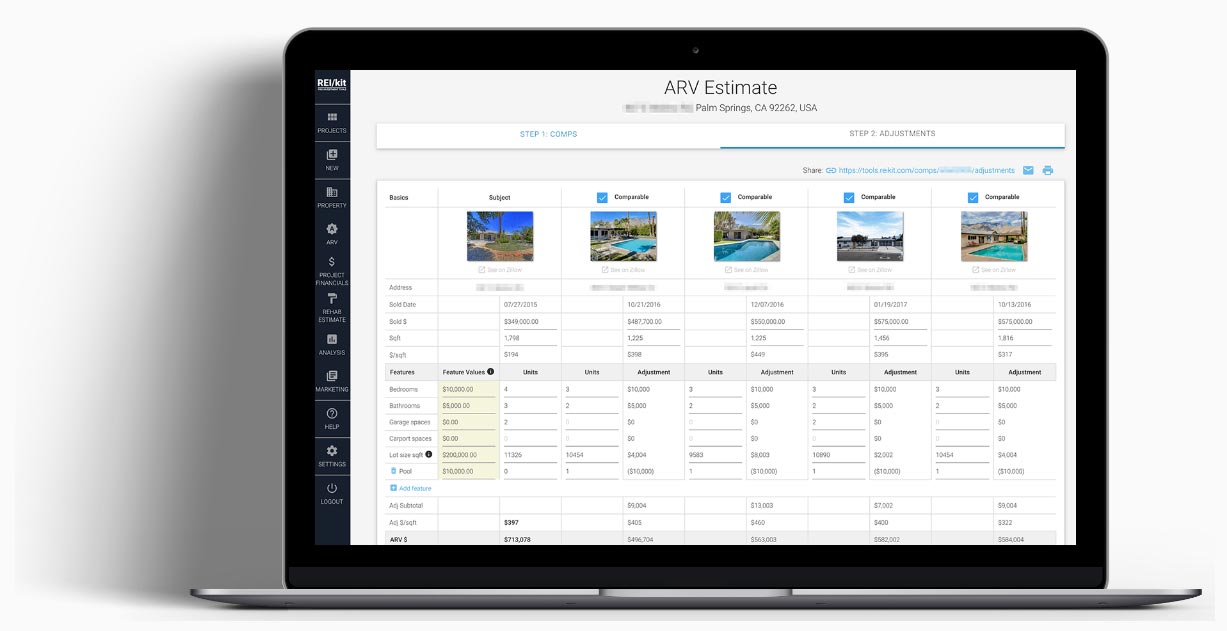 Accurate Rehab Cost Estimator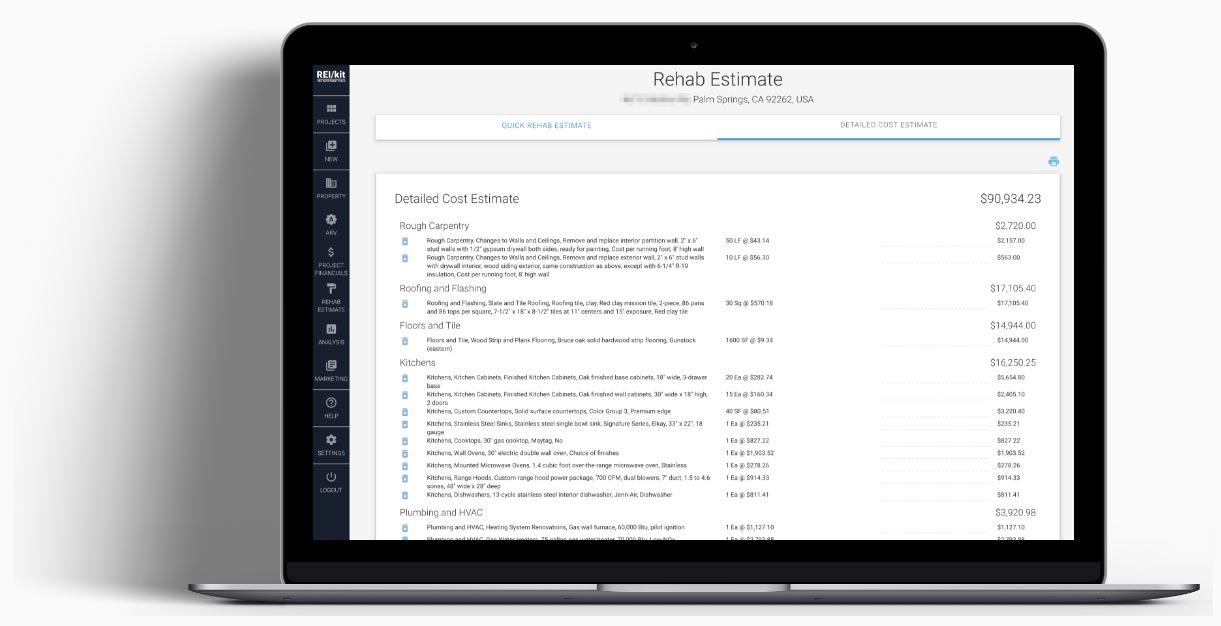 Create itemized rehab cost estimates without needing a contractor, and know the real cost of your rehab before you make your offer. The house flipping software lets you select from thousands of construction cost items that are regularly updated and adjusted to over 40,000 zip codes. No more guesswork. No more inaccurate $/sqft formulas. No more out-of-date house flipping spreadsheets.
Whether you are a real estate wholesaler, flipping a house, or investing in buy and hold real estate by using the BRRRR strategy, the software captures the most important performance metrics to ensure that you will get the maximum profit out of a deal.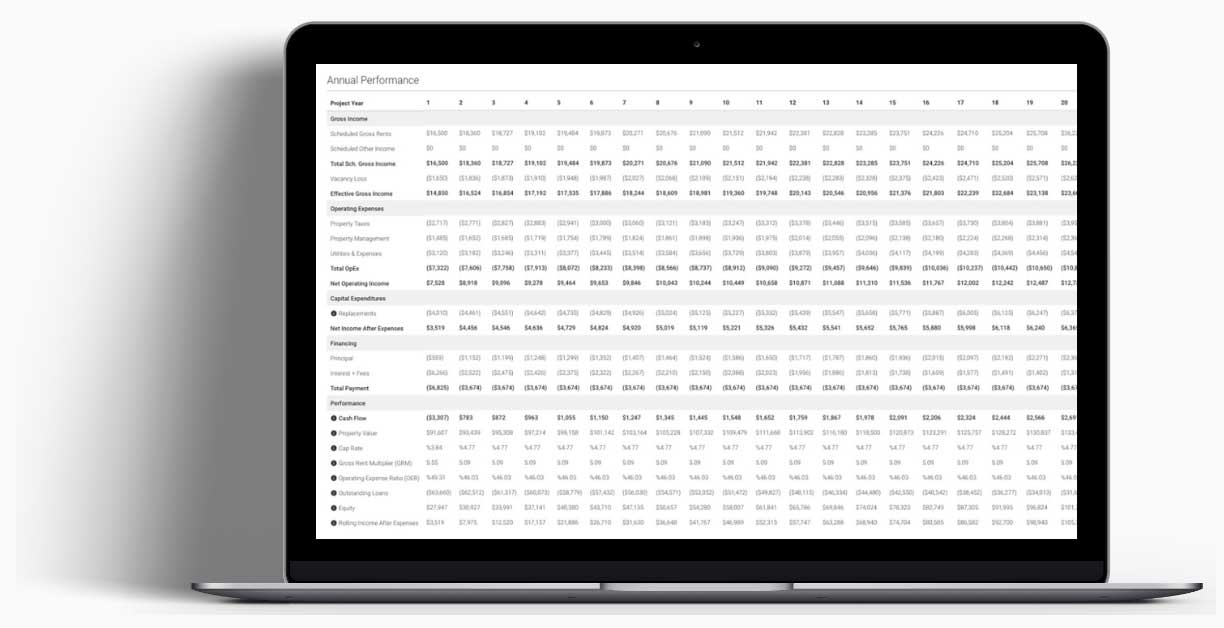 AND
MARKET

THOSE DEALS TO YOUR CASH BUYERS FOR SALE OR PRIVATE MONEY LENDERS FOR FUNDING
Professional Deal Marketing Reports
For Cash Buyers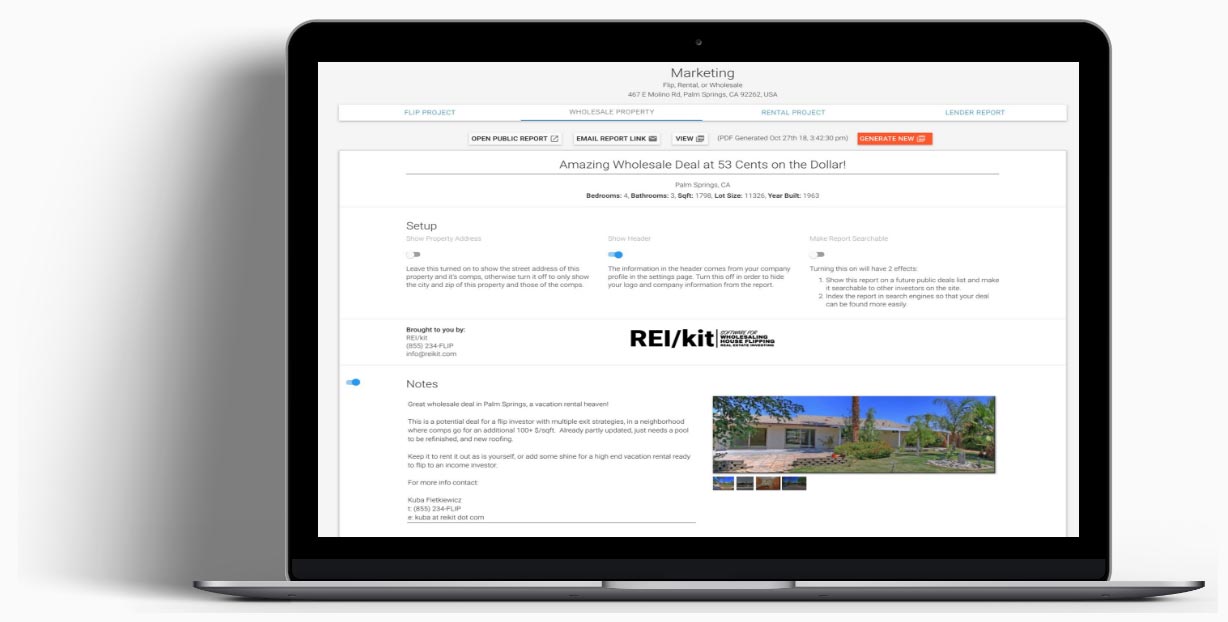 Present your wholesale, flip, or rental real estate investment property to your cash buyers and get it under contract quicker.
Stand out from the crowd, and show your expert due-diligence. (Example flip report ).
PRIVATE MONEY DEAL PITCH REPORTS
Highly polished deal pitch reports designed to get you to a YES and your project funded faster.
Show your deal fundamentals to your private money lenders using the most thorough reports they have ever seen.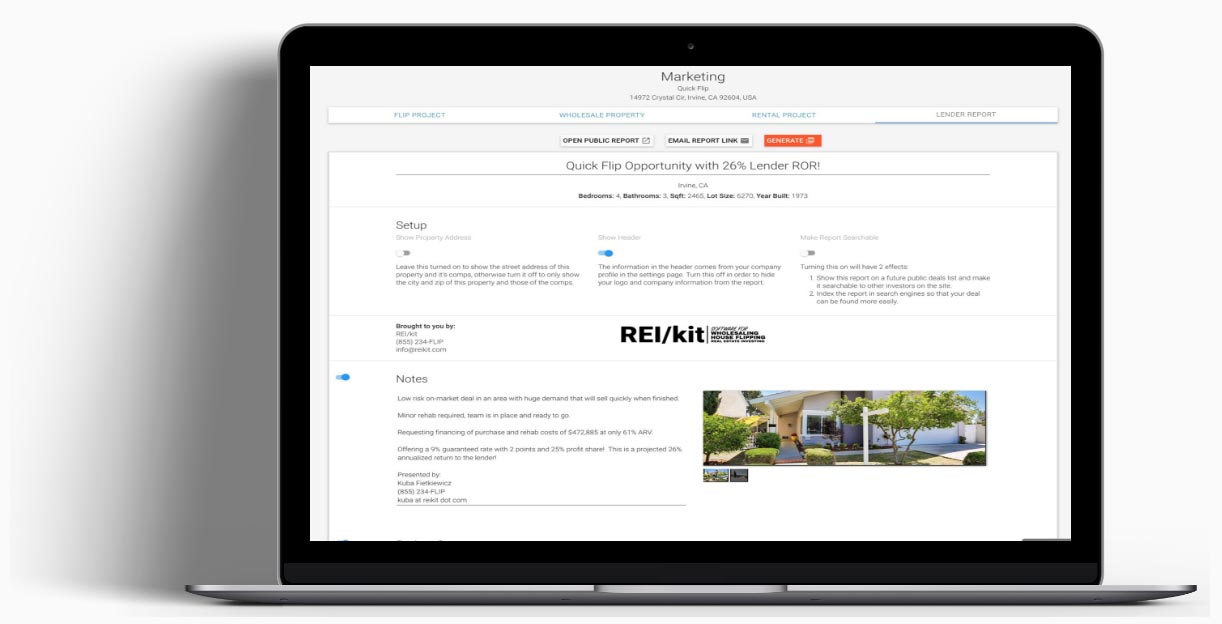 Deal Inventory Integrated With Your Lead Capture Website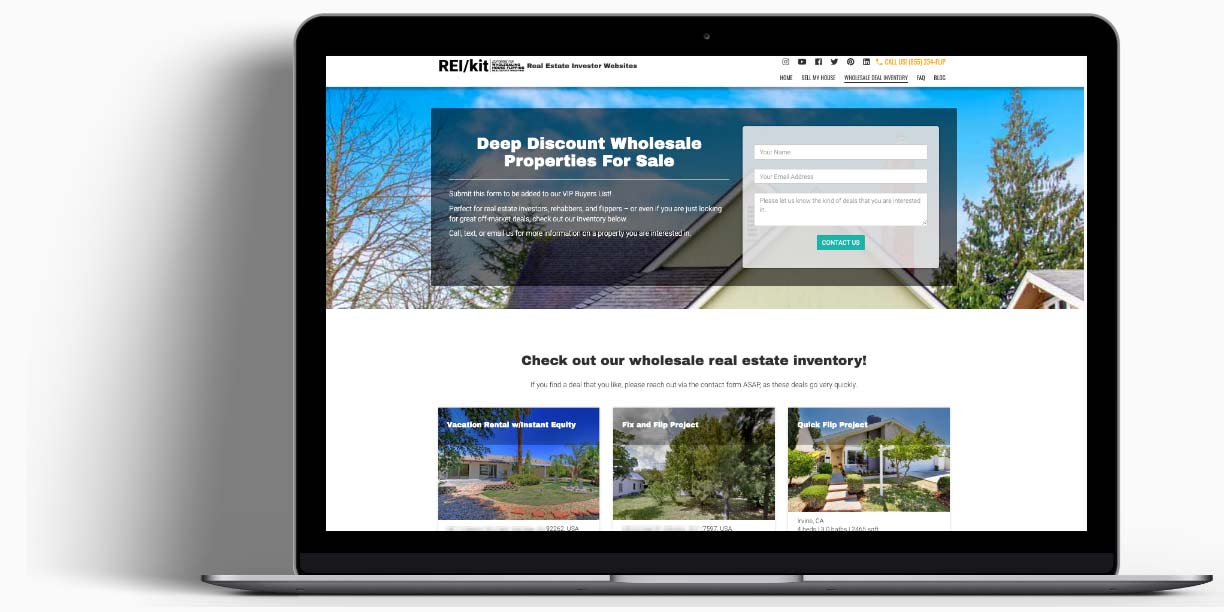 Integrated with your REI/kit lead capture website. Add your deal reports to your website with one simple click to drive cash buyer interest.
This level of integration is only possible with a complete system like REI/kit, that has all of the tools working together as one.
Build Your System & Start Getting Into More Deals Today
Get into more and more profitable deals by building out your REI/kit lead marketing, follow up, and deal analysis systems.
Want to learn how to flip a house?
Check out our indepth guide on how to go through the process of flipping houses from finding deals, to analyzing them, and getting them funded.
How to find houses to flip
Finding houses to flip is one of the hardest parts of the game. These three articles will show you over 100 ways to find houses to flip: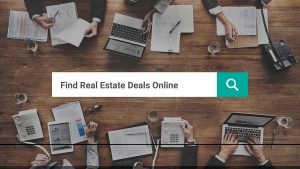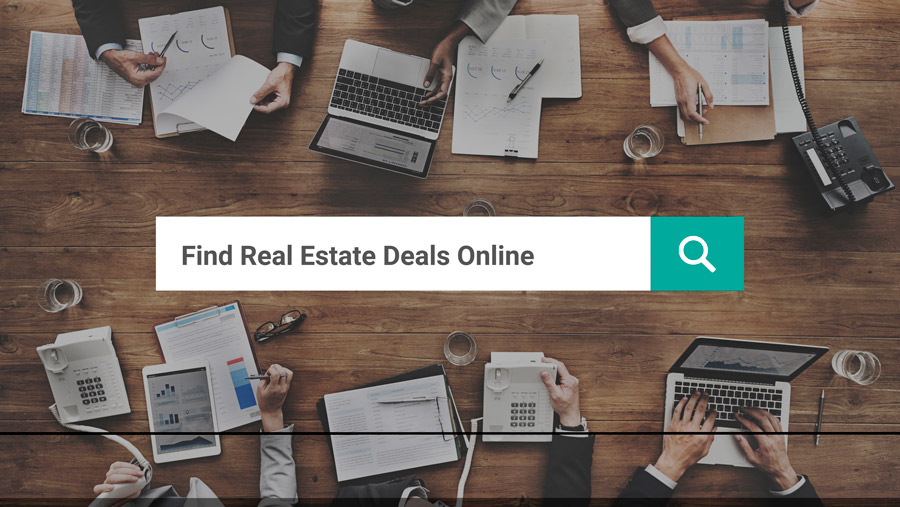 Once you have found a flip, the next step is to make sure that it is worth doing with a thorough flip analysis.
There are 4 major steps to analyzing a flip: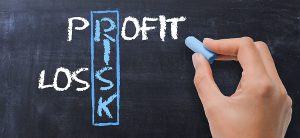 READY TO TRY THE SOFTWARE FREE?